Larry Levan
Track List:
1978 – Cookie Monster & the Girls - C Is For Cookie

1978 – Instant Funk – I Got My Mind Made Up

1978 – Loose Joints – Is It All Over My Face? (Female Vocal)

1978 – Bumblebee Unlimited - Lady Bug

1979 – Dee Dee Bridgewater - Bad For Me

1979 – Instant Funk - Bodyshine

1979 – First Choice - Double Cross

1979 – Skyy - First Time Around

1979 – Billy Nichols - Give Your Body Up to the Music

1979 – Sparkle - Handsome Man

1979 – Loleatta Holloway - The Greatest Performance Of My Life

1979 – Taana Gardner - When You Touch Me

1980 – Cognac - How High

1980 – Janice McClain - Smack Dab In the Middle

1980 – Taana Gardner - Work That Body

1981 – Inner Life - Ain't No Mountain High Enough

1981 – Taana Gardner - Heartbeat

1981 – Logg - I Know You Will

1981 – Ednah Holt - Serious, Sirious Space Party

1981 – Sparque - Let's Go Dancin'

1981 – Central Line - Walking Into Sunshine

1982 – Lace - Can't Play Around

1982 - New York Citi Peech Boys - Don't Make Me Wait (instrumental)

1982 – Gwen Guthrie - It Should Have Been You

1982 – Tracy Weber - Sure Shot

1982 – Chaka Khan - Tearin' It Up

1983 – Jeffrey Osborne - Plane Love

1983 – David Joseph - You Can't Hide Your Love

1986 – Gwen Guthrie - Ain't Nothin' Goin' On But the Rent

1986 – Mann Friday – Love Honey, Love Heartache

1989 – Shimada Nami - Sun Shower
***NOTE: I intend to update this page with more song descriptions and more songs (including "Every Way But Loose" by Plunky & the Oneness of Juju (1982) and "Padlock" by Gwen Guthrie - featuring Sly & Robbie (1985). Unfortunately, I have several of my favorites on vinyl only and can't convert them to mp3's at this time. I also intend to feature tracks "popular @ the Paradise Garage" on a future MyPod.***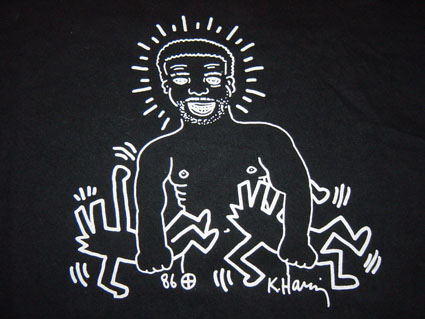 Larry Levan (1954-1992) is one of the most important figures in the history of Club Music. He almost single handedly kept the scene alive during the period after Disco "died" and House Music was "born." Both his DJing at the Paradise Garage and his remix & production work were so influential during the early 80's, Club music from this period came to be called "Garage."
Larry Levan is famous for his high energy DJ sets which would transport the dancer to another place and time. He wasn't a techhnical DJ like today's beat matchers, but played the right record at the right time, creating a "journy" or a "trip"with his sets. He would often use two copies of the same record so he could extend instrumentals over and over or remix the track live. He would play the acapella over the instrumental so he could drop out the beats or tweak the vocals independently.
He remix and production work was influential for combining funky soul & gospel with synthesizers and dub elements. He would strip tracks down to just the beat and then would slowly build the track back up, one instrument or groove at a time.
There are many links provided below where you can read more about Larry. There are several
YouTube videos you can watch here
. Most of them are from the excellent documentary
"Maestro."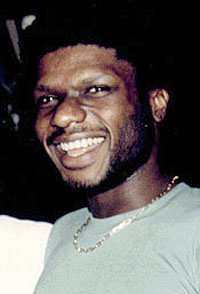 Here are some good Larry Levan & Paradise Garage Links:

TheParadiseGarage.net
Disco-Disco
JahSonic
West End Records
Discogs (includes Discography)
Disco Museum
Wikipedia
Kevin Lewis Article
Paradise Garage Remembrances
Tina Paul Tribute
aGarageTribute.com
AndWeDanced.com
GlobalDarkness.com
Answers.com


*****BONUS!!!*****

Here is a bootleg of Larry Levan mixing live.
1. Live @ Paradise Garage 1985
2. Live @ Endmax, Japan 1991
3. Birthday Bash@Gold, Tokyo 1992
For more Larry Levan DJ mixes (mostly in RealPlayer)and tons more classic mixes from old school (and nu school) DJs check this out!